Monkey See, Monkey Do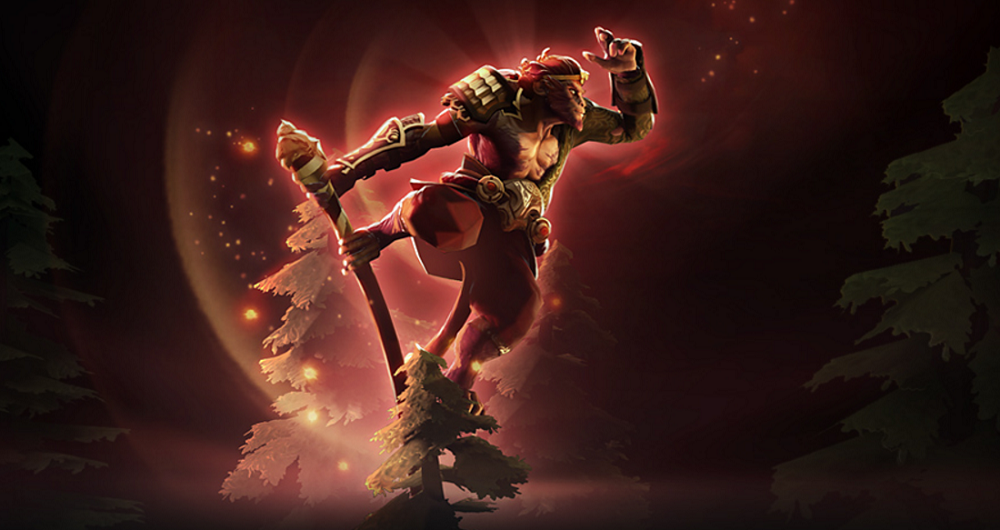 DAC showcased the strength of the latest addition to Captain's Mode: Monkey King swept the pro-scene, becoming one of the most coveted roamers in the game. Despite numerous post-release nerfs the hero still looks incredibly strong, filling the niche of Bounty Hunter and Riki, but without the unreliable invisibility mechanics and with far greater teamfight presence.
Leading up to the Kiev Major, the hero received another set of nerfs, primarily aimed at his early game. Naturally, it is worth questioning whether the hero is still as good of a pick as he was before. It does seem that with a few adjustments, the hero will still be as popular.
The most important position
Position four heroes have become increasingly important in the current meta. The increase in the amount of resources available on the map and slightly greedier playstyles allowed for a whole set of heroes to enter the competitive scene. Most of them can be classified as "catch" heroes, with low cooldown AoE disables that make them amazing initiators, regardless of whether you are initiating on the whole team or simply ganking individual heroes.
Monkey King fits the description perfectly and even more. He is an amazing harasser in lane and can be played both similarly to Bounty Hunter and Riki, occasionally revealing himself to deal damage and scare the enemy away, or as Ogre Magi and Bane, staying in lane and utilizing his long range to get some free hits on the enemy.
He is an amazing scout and roamer, with massive flying vision in-between
Tree Dance jumps. It is also much harder to keep track of him, since he doesn't rely on potentially counterable invisibility mechanics and is much more unique in his elusiveness. It is a much higher risk endeavour, especially in certain matchups, but the reward is similarly higher—unlike most other roamers Monkey King can consistently initiate a gank even at level 1.
Finally, unlike most other position four heroes, Monkey King is incredibly useful in teamfights. His ultimate deals a lot of damage, can provide a lot of utility and has a psychological effect on the enemy—even if Monkey King is underfarmed and deals little to no damage from his statues, it still looks very intimidating. This aspect is probably less relevant in pro-games, but is massively undervalued in pub matches.
New Playstyle?
Throughout the DAC, professional players have levelled Monkey King up in a single way: after a single point in
Tree Dance,
Boundless Strike took priority and was maxed out first to maximize the stun duration.
With 7.05 substantially changing the hero, this might no longer be the go-to build for the hero. The mana cost scaling on
Tree Dance was reversed and the ability actually costs less with more levels put into it. Moreover,
Boundless Strike's stun duration was reduced, while the slow from
Primal Spring was increased for later levels. The latter is also frequently superior damage wise—a fully charged Spring deals 340 damage, compared to roughly 200 from maxed out
Boundless Strike. The strike does get a lot more potent with
Jingu Mastery, but as a support-initiator, you rarely get the chance to fully stack the ability.
80% slow for 4 seconds is a really good initiation during the early levels, before enemies get items to counter or dispel the effect. In fact, from the perspective of dealing follow-up damage from auto-attacks it might even be superior to 1.6 of stun, unless the enemy hero has mobility spells. The paradigm shift is not guaranteed, but it is very likely to be at least a situational build in some games.
To compensate for amazing abilities, the hero has very boring talents. On top of being boring, they are also not particularly game-changing. In the majority of cases, support Monkey King should go for survivability options at level 10 and 15, since they allow him to survive longer during
Wukong's Command. The level 20 choices are a bit harder, since the statues from Command get full benefits from the bonus damage and unless you are playing against a lot of spell casters, +40 Damage might actually be a better option. Level 25 option is more or less based on whether you've managed to successfully transition your position four hero into an extra core for your team.
Item Builds
The item build for the hero has been pretty straightforward:
Phase Boots into
Hand of Midas into
Skull Basher. This allowed the hero to rapidly gain levels and be a complete nuisance in teamfights. It was generally followed up with
Shadow Blade or
Black King Bar.
Phase Boots, Basher, Shadow Blade, Black King Bar and smaller trinkets, such as
Blight Stone and
Orb of Venom are still bread and butter for the hero. The Basher is simply non-negotiable, since it essentially transforms Wukong's Command into a 780 radius makeshift Black Hole. But is the Midas still worth it?
It probably is. There is an argument regarding the new cooldown scaling for Wukong's Command and it is a very valid one. Losing 0.75x XP multiplicator hits the item hard for most Midas heroes, but Monkey King doesn't generally suffer from the XP problems by the time he gets his midas. Level 9 more or less provides the hero with all the tools he needs. At the same time, increased reliable gold gain for a hero who can be killed from an unfortunate quelling blade usage is a massive boost.
Midas still boosts hero's XP gain and it will still get you to level 18 faster, which is now crucial, given how the Wukong's Command cooldown has been increased.
Closing Thoughts
Monkey King will not leave the meta and will probably still remain one of the most popular heroes. It is still worth learning to play the hero in the pub environments as well—he still outclasses most roamers with higher utility, consistency, item independence and damage.
That said, adjusting skill builds will probably be necessary: the hero can be developed in two ways and priority on
Boundless Strike or
Primal Spring should largely depend on the mobility of the enemy heroes.