Dealing with Lone Druid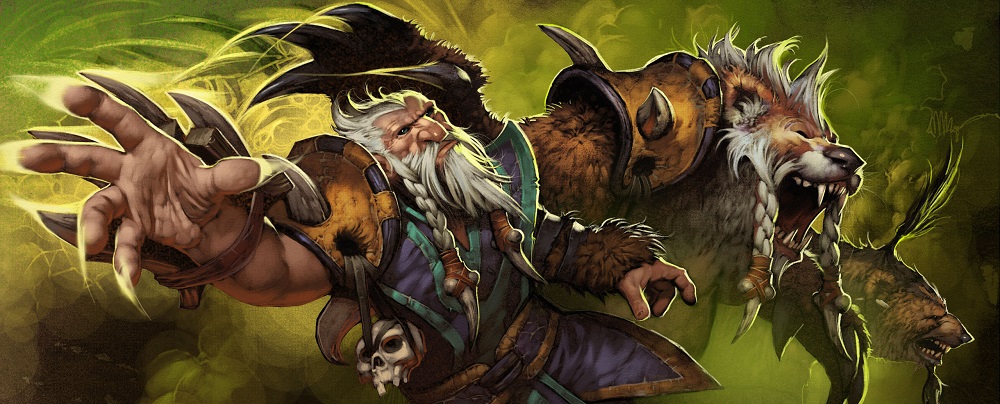 The "new Sniper" has been all over pub and pro play in these past few months of the 7.xx era. The new talent system has inspired the fighting Lone Druid build that has been especially remarkable in pro play, resulting in him being the most banned hero (246) during the most recent Kiev Major qualifiers.
We've covered how he works, but how exactly does one deal with
Lone Druid, especially in pub games, where it is easier for him to be let through?
Cores
Lone Druid is a special kind of carry. Usually, locking a carry down with all kinds of disables should be sufficient. And while it still is a viable strategy against Lone Druid, it's difficult to actually pull off because of
Savage Roar. Unless his Spirit Bear is also disabled, it will be able to steer enemies away for usually long enough to get some space.
That is why the following heroes fit a category that can either ignore/counter Savage Roar.
Fighting fire with fire has been a strategy that pro players used in the past few months. Fighting the "new Sniper" with the actual Sniper was an option that worked quite well.
Sniper "out-ranges" Lone Druid by quite a bit, as he can have an attack range of up to 1190, compared to LD's maximum of 865. This advantage is important, because one of Lone Druid's biggest strengths is Savage Roar. The spell allows him to effectively disable opponents for 2.4 seconds. As they run away, he can safely hit them with his long range. Sniper may be sent away, but with good positioning it should not be enough for Lone Druid to pursue him with attacks.
This range advantage is especially important in highground defenses. Lone Druid usually can siege a tower effectively as long as he has vision on it. Sniper can contest such a siege without putting himself too much in harm's way. Brewmaster has been a counter to Lone Druid for a long time already. His ultimate allows Brewmaster to effectively take out the Spirit Bear during a teamfight. The same can now obviously be done with the hero himself. By cycloning Lone Druid, his team will be left without a lot of damage. It's similar to approaching an Alchemist or Wraith King. Ignore and kite them to finish off the teammates/supports first.
At the same time,
Drunken Haze is a strong spell against Lone Druid. A 70% miss chance hurts a lot for a hero that doesn't build into either BKB or MKB early and the MS slow isn't small either (40%).
To top it all off, Brewmaster is a natural Blink Dagger carrier, and thus long range initiator, and can even build into
Assault Cuirass or
Scythe of Vyse, both of which are excellent items against Lone Druid.
Similar to Sniper, Tinker is efficient against Lone Druid because of range. An
Aghanim's Scepter works wonders against the hero, as Tinker doesn't need to position himself in a bad spot to apply the 100% miss chance. Even if he did, the lack of Radiance in the fighting Lone Druid build allows Tinker to usually get away.
March of the Machines is also a strong spell against Lone Druid's tower siege, as it covers both the Bear and the hero itself and the bear especially is quite squishy in this build. All the burst from Tinker also allows him to easily kill the Spirit Bear, whose 300 gold bounty is quite sizeable.
Tinker's set of skills and item pickups make him a strong hero against most hardcarries and he forces Lone Druid to build at least one defensive item usually. Tinker also lanes fairly well against Lone Druid, due to a good attack animation, damage and
Laser.
Supports
A good support against Lone Druid needs to be survivable. That means that they either need an innate escape or defense mechanism or that their spells can be cast from long range so that they don't expose themselves. Ideally, they also counter Lone Druid's range advantage and kill potential.
Gatekeeper's Loading Screen by Noribu
Lone Druid is squishy. The fighting build doesn't consider stats as much, leaving the hero open and vulnerable to any kind of damage, which he usually makes up for by putting space between himself and the enemies. Warlock, like many other heroes, can close that gap, but Warlock's abilities are special in this regard. Not only does he have a large AoE stun,
Fatal Bonds also make sure that Lone Druid can continuously receive damage. Lastly, the slow from
Upheaval is not to be underestimated either.
Keeper ticks many, if not all of the boxes that a support needs to counter Lone Druid. His spells can be cast from far away and
Blinding Light is an excellent counter to Lone Druid. KotL also counters any siege attempts quite well, usually without putting himself in danger. The daylight flying vision from his Aghanim's Scepter is also a great tool to fight against Lone Druid.
The reasons for why Disruptor is good against Lone Druid are pretty obvious.
Kinetic Field makes sure that Lone Druid cannot use his extraordinary MS and range as effectively as he wants to and even if he does get away,
Glimpse can reposition him into the midst of the fight.
Thunder Strike is also a good tool to keep vision on the main hero, though getting in range to use the spell is hardly viable.
Playstyles and strategies
As mentioned above, it's not always smart to go all in on Lone Druid from the getgo. Savage Roar can negate a lot of good initiations and will leave initiators vulnerable. Long range AoE disables are usually the key to lock down Lone Druid and his Spirit Bear, as is heavy burst damage. Lone Druids rarely build into defensive items early on, aside from a Hurricane Pike, which means that burst damage of any kind, preferably magic or pure though, will almost always ensure a kill.
Another important tool in dealing with Lone Druid is evasion, or rather miss chance. Three of the heroes mentioned above can affect Lone Druid's hit accuracy, which is important since he relies solely on attacks to deal damage. In that same vein, heroes with innate evasion (talent or ability) are strong early on against LD until he builds Monkey King Bar, so Slark or Phantom Assassin both are heroes worth considering as well.
Pretty much any defensive support item is good against Lone Druid, be it
Force Staff or
Eul's Scepter of Divinity. Glimmer Cape however is less useful, especially since Lone Druid players should always have a Dust with them that they can activate from their Spirit Bear, or even a Gem. As good as mobility items may be, armor is effective as well, and
Tranquil Boots are worth considering for sure. More on the importance of armor can be found here.
Generally speaking, as with any hardcarry, it is wise to be more pro-active early on. Exploiting the early game weakness of the hero and the general lack of damage prior to level 10 is key in delaying his impact and should buy a team enough time to build up the necessary items to deal with him in the midgame as well.