A Closer Look At Hero Rankings
We've had our Hero Rankings feature out for some time, and though it's still in beta, it's interesting to take a look at some of our favorite heroes and players, and see what we can learn from them.
Ferrari is GOD
It's no surprise that Ferrari_430 is commonly regarded as one of our Dota gods. This screenshot was at a point where he held the top two spots for 10 different heroes, averaging a win rate of 65%+, especially on some of his signature heroes such as Invoker, Ember Spirit, and Templar Assassin. Though iG may not have had the best performances in recent memory, Ferrari still remains as one of their most impressive players.
Item Builds Among Top Players
We found that the item builds among top players were generally cookie cutter across the board. For example, Dragonfist, a 7.1k MMR player at the top of the American leaderboards, has one ubiquitous build for his signature Templar Assassin: Phase, Drums, Yasha, Daedalus.
Another example of item consistency is from w33's Meepo, which is currently 2nd on our hero rankings.
One reason for item consistency is because sometimes thats the only way you can build a hero, with little opportunity in other situational items. Meepo requires a base of Aghanims, Blink, and Hex, with luxury items such as Manta Style, Skadi, and Heart being the player's choice. I'll leave it to the comments to discuss which is better, but how can you argue with w33's success on going Skadi+Manta over Heart?
The second reason to follow a consistent item build is because of the randomness of pubs. Even if your lineup is better, you never know how your laning phase will go. You can have in mind that your defensive tri-lane with Anti-Mage, Skywrath Mage, and Ogre Magi iis fairly strong, until a few minutes later the offlane Dark Seer triple kills them. It's one of the main reasons why Dragonfist opts for a stronger early item build on TA with Drums and Yasha, instead of an early Blink Dagger. Pubs are generally more active in the laning phase, and a stronger early-mid game build can provide more consistent results to climb MMR.
This same pub approach can be seen in Slahser's video guides. He opts for early builds such as Urn of Shadows on Spectre, Desolator on Furion, and Euls on Gyro. However, his choice
Sange first on Shadow Fiend we'll leave to the comments.
Invoker Builds
Invoker, a pub favorite, is unique in that there are two distinct ways to build him (three for Wex-Exort wishful thinkers). VG.Black currently holds the #4 Invoker spot on the back of his Exort/Quas Invoker.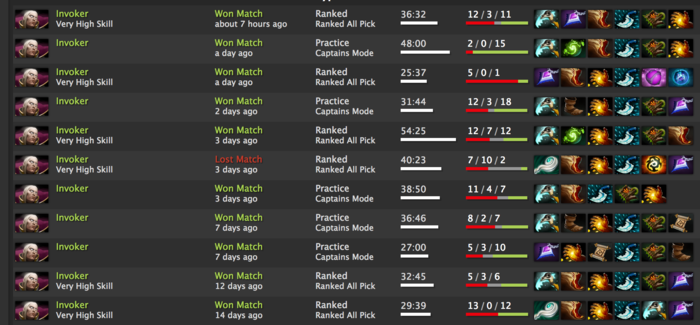 Invoker players will notice a few interesting choices here by Black. One is his choice in Blink Dagger over Force Staff. Force Staff by far is more popular among pub players, being built more than twice as often as Blink Dagger. Blink Dagger, however, is best for the way Black plays Invoker. While Force Staff may be better defensively for yourself and your team, Black is usually on his own, split pushing. He uses Blink like how a Furion would use it: to escape a lane when the enemy team reacts to your push. It also doubles as the better offensive item for your Meteor combo.
Black also opts for Boots of Travel. Whereas Phase Boots gives you the necessary speed for a Wexless invoker, Boots of Travel opens up your split pushing possibilities. This is fairly unique to Black, when you look at other top Invoker players such as Lv.Lin, LGD.Yao, and VPP.Scandal who opt for Phase or Treads.
For Quas/Wex Invokers players, there are few better examples than Ferrari_430. On Invictus Gaming, he is their exclusive Quas/Wex Invoker player (with Luo being their Quas/Exort player).
Whereas Exort/Quas Invokers like Black generally split-push and avoid fights, Quas/Wex Invokers are always looking for them. One trend from Ferrari's pubs is that he picks his Quas/Wex Invoker as a lane counter to Ember Spirit. Ghost Walk+Orchid counters Ember, but one lesser known interaction is that
Tornado purges
Flame Guard.
Learning From Top Players
These are some of the ways I've used Hero Rankings to guide my play on some of my favorite heroes. I've found myself stalking recent replays from pros, watching the itemization, and seeing when they choose to build situational items (Manta or BKB first on Ferrari's Ember, for example). If you've found any insight from Hero Rankings, feel free to share your comments below!